Wednesday, September 14, 2022
These wonderful artists have lots of music and insights to share.  Please read the complete descriptions of the workshops being offered.  Register online, or call the Office at 620-221-3250 to register by phone with a credit card.  These classes are IN-PERSON and Hands-On workshops, so bring your instrument & music stand!
MOST workshops will take place at the First Baptist Church in Winfield, 200 E 11th St., Winfield, KS.
Andy May's Mandolin workshop will take place at Bob's Place, 921 Main Street, Winfield, KS.
Early Registration closes Friday, September 9 at 5:00pm. Registration reopens Wednesday, September 15 at the workshop location.
Please Note:  Workshop instructors may ask participants to wear masks, and masks will be on hand for any who wish to wear them.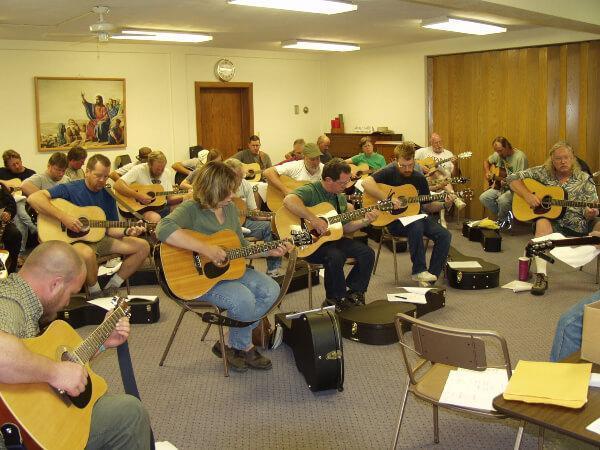 Unfortunately, WVF is not able to provide transportation from the fairgrounds to the workshop locations due to a lack of rental vans and drivers in this area of the state.  There is parking on the East side of The First Baptist Church (at the corner of  11th Avenue and Loomis).
If you are taking the mandolin workshop being held at Bob's Place, there is parking behind the building at the corner of 10th Avenue and Millington Street.
Please ride-share when possible.
Those who preregister receive a confirmation email which includes a map of the restaurants within walking distance.
Aodan Coyne – Irish Accompaniment in DADGAD
10am to 4pm     Beginner to Intermediate Skill Level
Aodán Coyne is the guitarist and singer for the international touring group Socks in the Frying Pan. Over the last decade Aodán has created a unique and exciting modern sound in guitar accompaniment.
Aodán has a wealth of teaching experience, performing master classes around the world and creating online guitar courses in the DADGAD guitar tuning (https://www.aodancoyne.com). 
He now brings his guitar teaching on all aspects of accompanying Traditional Irish music to the Wednesday Workshops at the Walnut Valley Festival.
In this workshop we will explore DADGAD guitar tuning and Irish music. We will cover jig & reel rhythm techniques, how to open up the guitar neck with major & minor chord progressions in a modal tuning, and how to complement the melody of Irish traditional tunes.
Each participant will have the opportunity to ask questions and explore the various techniques of Irish backing.
This Beginner to Intermediate level class will run from 10am to 4pm with a 1-1/2 hour break for lunch.
Cost is $75 with a maximum of 20 participants.
Bing Futch – The Blues, Dulcimer Style
10am to 11:30am      All Skill Levels
2016 International Blues Challenge Finalist Bing Futch offers up this fun and fascinating class on playing authentic Mississippi Delta Blues on the mountain dulcimer. Bing won the "Best Guitarist" award in the solo-duo category at the IBC in Memphis while playing the mountain dulcimer and shares the secrets to this beloved folk style in a workshop for all skill levels.
Get hands-on experience with shuffle rhythms and barre chords as you learn the basic song patterns while learning how to add hot licks and solos. Come find out just how easy it is to play the blues, dulcimer-style! All Skill Levels welcome.
Minimum of 5 Preregistered Participants 
$40 per participant
Cindy Harris – Intermediate / Advanced Autoharp
Morning Session: 9am to 11:30am      Afternoon Session: 1pm to 4pm     Intermediate / Advanced Skill Level
Join 2017 International Autoharp Champion and 2019 Mountain Laurel Autoharp Champion Cindy Harris for a full day  intermediate/advanced technique and repertoire workshop. 
Low intermediate autoharpers who do not yet play melody will benefit from attending the morning session. More advanced autoharpers who already play melody are encouraged to attend the full day program so that we can build on our work from the morning when we venture into more challenging material. 
The Morning Session – 9am to 11:30am
This session will start with a review of rhythm including a variety of accompaniment techniques and some work on damping and progress into some repertoire that will allow us to exercise those skills, driving rhythm into the melody.
Minimum of 3 Preregistered / Maximum of 15 participants.
Cost is $50 per participant
The Afternoon Session – 1pm to 4pm
*** You Must Take the Morning Session to be Eligible for the Afternoon Session ***
The afternoon session will explore jigs, English dance tunes, American fiddle tunes, and maybe some waltzes, focusing on playing smooth melody lines and utilizing alternate chordings. 
Minimum of 3 Preregistered / Maximum of 10
Cost is $20 for the Afternoon Session (plus required registration for Morning sesseion)
Andy May – Beginner Mandolin
9:30am to 4pm          Skill Level:  Beginner to Beginner/Intermediate
***** This class is located at Bob's Place, 918 Main Street, Winfield, KS *****
Mandolin 101 with Andy May
Dust off your mandolin and join Andy for this fun workshop! He will cover techniques to help you improve your playing and performance skills and increase your confidence. He will give you a foundation that will help you bypass roadblocks that many beginners encounter and enable you to build on what you've learned once the workshop is over. And, he will arm you with common-sense practice techniques to help you achieve your goals.
In this class, Andy will show you how to:
Avoid common pitfalls and problems
Improve your timing
Accompany yourself
Interact with others musically
Play back-up and lead
Read basic tablature
Move forward and expand on the basics
Andy will provide and go over reference worksheets that he has created for his beginning students, including:
Basic chord charts with useful positions
Flat-picking techniques
Common-sense fingering exercises
Several fun and accessible songs
To put all this in context, Andy will give an overview of foundational mandolin styles so that you understand their technical, historical, and cultural aspects and importance.
Strictly speaking, this class is for beginners, but intermediate-level players will enjoy it as well. Bring your questions and a smile!
Andy May has played mandolin on stages from the Walnut Valley Festival to MerleFest to the Country Music Hall of Fame and on the IBMA award-winning project, "Everett Lilly & Everybody and Their Brother." His own classic mandolin project, "Dance of Life, a Mandolin Celebration," which received critical acclaim, mixes the fire of bluegrass with the more laid-back feel of New England contra dance tunes.
Andy has been teaching mandolin for more than half a century and has taught hundreds of people of all ages how to play. He particularly enjoys teaching beginners, giving them a solid framework that will allow them to keep learning and advancing on their own. "I love playing the mandolin," he says. "You can't not be happy while you play the mandolin!"
Cost is $85 per participant
Minimum of 8 Preregistered Participants
Maximum of 20 Participants
Tim May & Dan Miller – Flat Pick Guitar
10am to 4:30pm with 1-1/2 Lunch Break     Skill Level:  Intermedate / Advanced
This flatpicking guitar workshop will be for intermediate and advanced players. We will look at how to create solos, using cross-picking, folded scales, harmonized scales and Maybelle Carter style. We'll look at how the masters created solos and use their techniques, from Doc Watson and Dan Crary to Tony Rice to Norman Blake and Clarence White. We'll also provide a method for improvisation using scales and chord tones, including the blues (major blues, minor blues). This is the method we have taught literally hundreds of times touring the country, and by the end of the workshop you will be able to create a solo and improvise on tunes/songs you have never heard. Our method is based on concepts in the eight-volume series 'Flatpicking Essentials'. We will work a little on rhythm and appropriate note choices and ideas for alternating bass, but will do so mainly as a basis for moving into Carter style and Norman Blake's supercharged rhythm/lead combo approach. This Intermediate/Advanced class is 10am to 4:30pm with 1-1/2 hour lunch break.

Cost: $90 per Participant. 
9:30am to 4pm with 1-1/2 hour Lunch break     ALL SKILL LEVELS
Songwriting can be so captivating that the process becomes more important than the final result. Sometimes you create a song more for the joy of creating than for the song itself.
It's a spell, and once you're in it, you have at your fingertips the tools to create an even better song. You can start with a tidbit, but because of that spell your tidbit expands along with your imagination. A song is like a play, a short story, an anecdote, a prayer, or a symphony in microcosm.
But how to get started?  Ideas are all around you if you become aware of them (take notes, take notes, take notes!).  What makes you smile, feel sad, laugh, sing, cry, or wonder? There it is, the beginning of a song.
What comes first, the lyric or the melody?  There's no answer other than the lyric comes first or that the melody comes first or that they happen at the same time. And that's the wrong question, because the inspiration comes first – or not.  See how this works? You get to decide, and your answer is correct.
It can be so simple. A simple chordal progression (3 chords, no waiting), a simple melody line, and a simple lyric structure and a simple rhyming scheme. You can add bridges, key changes, tempo changes, or use a breathtaking array of techniques to construct your song, but so often it starts with a simple idea.  Find something that's interesting or curious to you and say it in the simplest way.  I'm not saying that it's easy or quick. It's generally not. But when you're in the zone, it's all you want to do.
Find a beat. It's so important. It's the momentum that carries you along on your quest and answers so many questions about how to proceed.  And the beat is part of that spell I was talking about. Then the melody adds to the spell and the lyric adds the focus as helps to put on the finishing touches. It's as simple as that!
Bob Shane once asked me to write him a hit song about the Kingston Trio. Now I don't know how to write a hit song, though I did accept the challenge. I'm so captivated by songs in general that any effort to that end sounds like a worthwhile pursuit, and I had some things to say about his group.
I have enthusiasm to share that might encourage someone else to learn the joys of the craft of songwriting.  Let's explore some techniques used by some of the acknowledged great songwriters of our genre.  Simple tools that set you free to be creative, and help to facilitate both your music and poetry.  Bring your instrument of choice, though you don't have to play to write songs. Gather your thoughts about songwriting. We'll be wanting to hear from you.
Being a fan of The Dillards and The Limeliters, I was honored that they both covered of my songs, two tunes each. The legendary Sam Bush had a hit with my composition "Howlin' At The Moon", and he's been singing it for over two decades.
(The originators of Telluride Bluegrass Festival first heard Sam's Newgrass Revival at Winfield back in the early '70s and the rest is Colorado history.)  The Nitty Gritty Dirt Band's Jimmy Ibbotson sang "Howlin'…" on our Wild Jimbos' MCA record, and it's been featured in a movie. It's been a good friend of mine.
And, yeah, I wrote that song for Shane, called "Singing Every Inch of the Way". It wasn't a big hit, but he recorded it and it's the final song on the last recording he ever made. At the end of his memorial service last year, this recording of Bob Shane came over the speakers, singing the story of his life. Singing every inch of the way.
Let's get together and celebrate songs!
Class is 9:30am to 4pm with a 1-1/2 hour break for lunch.
Cost is $80.00 per participant.
Maximum of 25 participants.
Mark Sganga – Finger Style Guitar
Beginner Session: 10am to Noon         Intermediate Advanced Session: 1:30 to 4pm
Intro to Finger Style Guitar – 10am to Noon
 We'll cover basic fingerpicking techniques, understanding chord shapes (with an eye towards making them movable) & we'll work on a simple Fingerstyle arrangement. This class is for folks who play guitar, know their basic chords & want to begin exploring fingerstyle. 
Minimum of 3  Preregistered Participants;  Maximum of 20 Participants
Cost is $60 per participant.  
Arranging for Finger Style Guitar – 1:30pm to 4pm
We'll take a deep dive into how to structure an arrangement on solo guitar. Utilizing moveable chord shapes to find the best key, various settings for arrangements (moving bass lines, Travis & other fingerpicking to support a melody). We'll touch on counterpoint, or how to make parts that happen at the same time work! This will be an open forum. I'll play for you, & be looking for some of you to demonstrate arrangements you've worked up. Will be looking forward your questions, & coming up with solutions to musical puzzles. This class is for folks who have some experience playing "Fingerstyle" or "solo" guitar arrangements & want to open up their minds & fingers, & improve their arrangements! Skill Level for this Class is Intermediate /  Advanced class. 
Minimum of 3 Preregistered Participants ; Maximum of 20 Participants
Cost is $60 per participant. 
Beginner Session – 9am to Noon        Intermediate Session – 1:30pm to 4:30pm 
This spring I attended an advanced ukulele retreat in Honolulu and received additional instruction and training with Jake Shimabukuro as one of my instructors. I've got a ton of energy & new techniques that I'm anxious to share with you!
Let's Get Uke Started!  9:00 am to Noon.      Beginner Session
This course is for beginning ukulele players.  We will cover tuning, basic chords, reading tablature, beginning strums and transposing to different keys.  Commonly known songs often played at "Winfield" jams will be taught.  Both standard & baritone tuned ukuleles are welcome.  
Maximum of 15 participants aged 10 or older.
Cost is $60.00 per participant
Ukulele Picking & Strumming   1:30pm to 4:30pm   

 Intermediate Session
This course is for ukulele players who already know basic chords and chord progressions. Focus is on fingerpicking, strum patterns and chord melody. Both standard & baritone tuned ukuleles are welcome.
Maximum of 15 participants aged 10 or older.
Cost is $60.00 per participant
Mark Alan Wade – Intermediate/Advanced Hammer Dulcimer
*****  Be sure to scroll to the bottom of the page to get a great deal on a full day with Mark Alan Wade! *****
9:15am to 11:45am  and  1pm to 3:30pm     Early Intermediate to Advanced Skill Level
This Multi-Skill-Level workshop is designed to offer new and fun techniques of playing to Intermediate and Advanced levels. As a veteran
public school music teacher, Mark is experienced in differentiating his instruction to various levels within a class. In fact, he has taught all grades from kindergarten to graduate students!
Mark Alan Wade – Morning Session   9:15am to 11:45am
In the morning, we will work on a bit of Music Theory as it informs the ways we can play back-up and predict chords on HD. We'll work on easy ways to back up reels, jigs, and waltzes. BONUS: I'll show you an easy-to-memorize tune to apply what we learn! Multi Skill Level –
1/2 day Cost is $60.00 per participant.
Minimum of 3 Preregistered; Maximum 30 participants
     See discounted price for a full day of  hammer dulcimer workshops. 
Mark Alan Wade – Afternoon session   1pm to 3:30pm

.
In the afternoon session, we will learn clever ways to do variations on your melodies. With just a few tricks, you can play your tunes a little differently each time around– a great skill to have for playing solo or in contests! We are going to use the tune, "Blackberry Blossom," for this, so it may help you to review this tune in advance. If you can't, don't sweat it! Blackberry Blossom is such a fun tune– it works played fast or slowly, like a classical tune. We'll end our day by applying our morning session's back-up techniques to this fun fiddle tune too! To help you keep learning after the workshop is over, Mark will provide videos of the tunes and techniques taught for your review. Multi Level –
1/2 Day cost is $60. 
Minimum of 3 Preregistered participants. Maximum of 30 participants. 
 See discounted price for a full day of  hammer dulcimer workshops.
Register for BOTH the Morning and Afternoon Sessions for a Discounted Price!
Full Day of Hammer Dulcimer Workshops Cost is $90.00 
 Minimum 3 Preregistered participants per class.
Maximum 30 participants per class.