PreRegistration: July 1 - 9, 2021!
You may preregister for Land Rush by prepaying for 1 camping spot or 2 (maximum). Electricity is not available during preregistration, but will be available to purchase upon arrival to grounds. You may preregister online beginning 8am on July 1.  At time of preregistration a timestamp will be used to place you in the queue and then assign you to a row, A-F.  We will take preregistrations by mail-in forms (postmarked June 28- July 9), but your place in the queue will depend on when we process your order. No mail-in forms will be processed before 1pm on July 1. After July 31, you will receive a form (by email if address provided, by regular mail for others), notifying you of which row you need to line up in on or after August 28.
While preregistering early does improve your chances of being in the first rows, it is not guaranteed. For example, in 2019, Rows A & B were filled in less than 10 minutes.
Do Not Preregister unless you intend to take part in BOTH Pre-Lineup AND Land Rush.
Pre-Lineup: Saturday, August 28, Starting at 7am
Your Row Assignment form should be prominently displayed in the windshield of your vehicle when you arrive. After entry, campers will be separated into Pecan and West and directed to park in a zone corresponding to their row. This is where you will remain until Land Rush, and you may put down tarps to save your spot. Note that you must pay camping fees upon arrival through September 3 to City of Winfield, and the receipt copy from your City yellow camping envelope should be placed together with your row form on your vehicle(s) or tarp(s) holding your place in line. After parking in zones A-F, campers may proceed to the pre-pay station on grounds to pay electric fees.
If you have not preregistered, you should arrive at 1pm.  WVA personnel will assist campers in parking. After parking in zone G, campers may proceed to the pre-pay station on grounds or return on Sept. 4 to pay for electric or other WVA fees. City of Winfield camping fees MUST be paid upon arrival through September 3.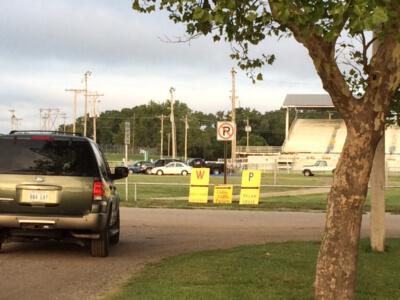 Everyone participating in the Pre-Lineup will have to pay the City Fees upon arrival through September 3.
Pre-Lineup continues August 28-30
Those who arrive after the initial lineup, up to and including on August 30, will be directed to park in the Zone corresponding to their assigned Rows. After August 30, campers arriving to line up will simply join at the end of the line.  
WVA personnel will survey the line-up in staging areas to assign Land Rush numbers, so be sure to have your row assignment form and city envelope displayed in plain view on your camper/vehicle or tarp.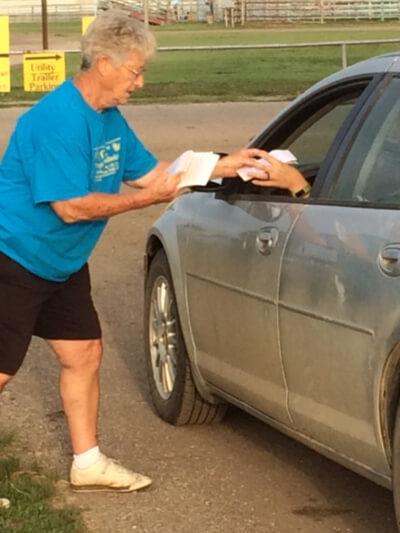 Number Day: Saturday, September 4, Starting at 7am
WVA personnel will use placement in staging areas to issue Land Rush Numbers to all campers. Land Rush Numbers will be handed out to all campers who are present starting at 7am. These are the official numbers that will be used to determine your place in the line entering each campground area. Campers who are parked in the staging area, but are unable to be present at that time, will be assigned a Land Rush Number based on their position. Starting at 1pm on September 4, Land Rush Numbers will be available at the Ticket Trailer as campers arrive and pay.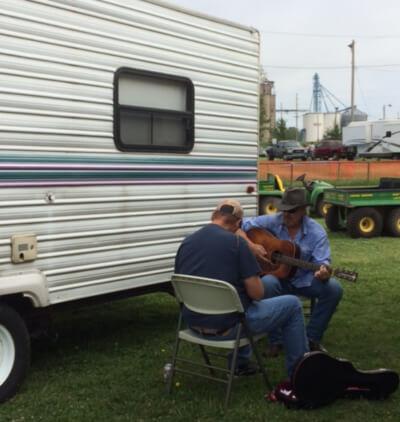 Any camper in line prior to Number Day must pay City of Winfield camping fees upon arrival through September 3.
Any camper who is in line and has not yet paid their Walnut Valley camping fees MUST pay them before being assigned a Land Rush number on September 4 or be placed at the end of the line when they are paid.
All campers who have already paid their fees, but are not present to receive their Land Rush number on Number Day, must pick them up with their Walnut Valley camping permits BEFORE 5PM on September 8.
Camping permits must be attached in the presence of on-duty Walnut Valley Festival personnel at the time they are received.
All vehicles must be removed from the Pecan Grove and West Campground by 8am, Tuesday, September 7.
Land Rush: Thursday, September 9, Starting at 7am
Important: If you are in the lineup and do not yet have your Land Rush Number, be sure and arrive before 5pm on September 8 in order to be sure to get your WVA stickers and Number.
On Thursday, September 9, at 7am, WVA staff will signal the start of Land Rush. According to their Land Rush Number, campers will drive from staging areas into West and Pecan campgrounds and claim their spot.  All vehicles taking part in Land Rush MUST have Land Rush Numbers; vehicles arriving during or after we start will proceed to camp grounds after completion of the Rush.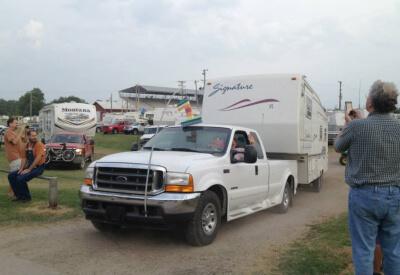 Only one unit (camper, trailer, etc.) may be connected to a towing vehicle during Land Rush.
Check out our Camping FAQ to find answers to your questions about Land Rush and Preregistration.