Over the years, many camps have created their own venues for campground picking. Most have their signups for getting on stage during or shortly before festival, which is why we don't have their schedules in the app.  Got a camp stage you would like us to know about? Submit the form in "Add your camp to the camp registry," and we'll send you a link so that you can add pictures and description.
Every year since 1987 Stage 5 has rolled into the Pecan Grove at the Walnut Valley Festival to provide a place for amateur acoustic musicians to perform for their family, friends and peers. Stage 5 is built on the bed of a 1954 Chevrolet one and a half ton farm truck owned by Russell & Sherry Brace and operated by their loyal and dedicated crew of musician friends, the 3rd weekend of every September. Over the years Stage 5 has taken on the personification of an old sailing ship, a gypsy wagon and the Stage 5 Motel. Celebrating 32 years in 2018 we welcome you to our musical motel.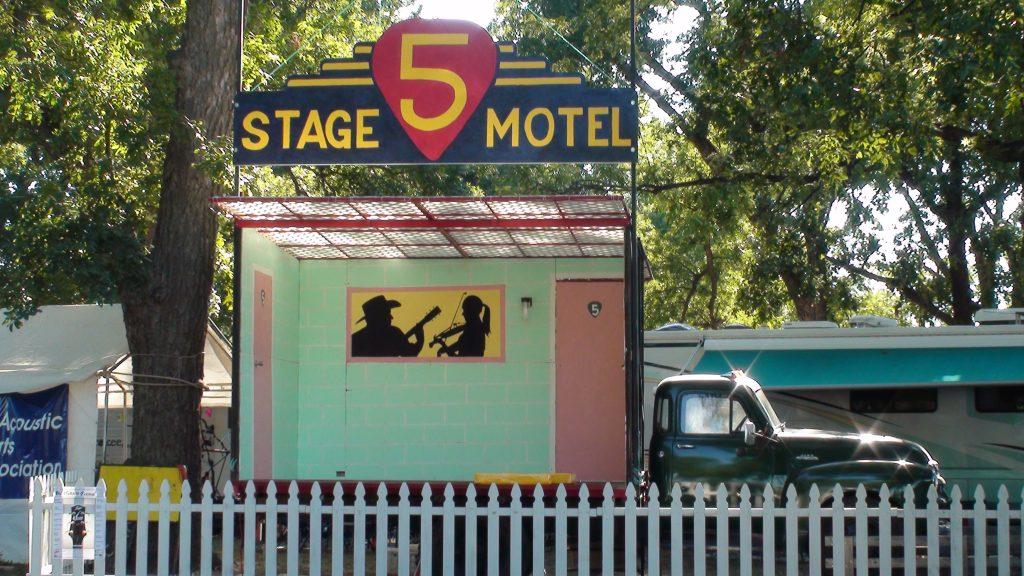 Stage 6 &
Feisty Music Camp for Kids
Stage 6 is one of the oldest camp stages, and is located in West Campground.  Stage 6 will host to the WVF Feisty Music Camp for Kids.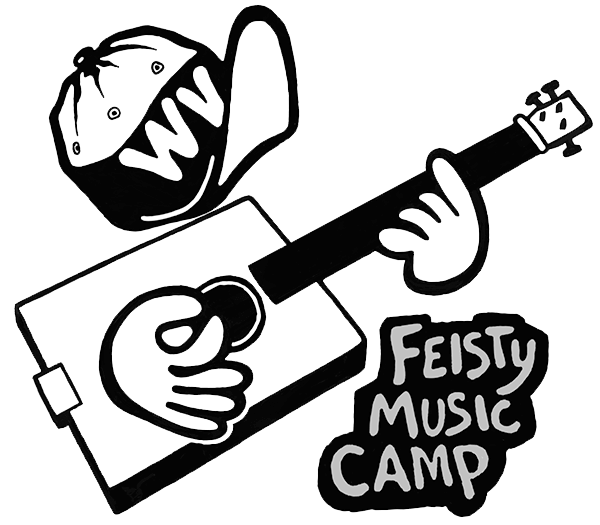 Stage 7 in the Pecan Grove
Amongst a sea of Pecans lies a platform of ideas
Stage 7 is an acoustic stage within the Pecan Grove campgrounds of the Walnut Valley Festival just up from the banks of the Walnut River. The stage requires NO amps, cords, monitors…nada – Just audience and performer. The performer has an intimate relationship with the audience, especially since most, if not all performers are fellow campers who love the joy of acoustic music. The link below is to a free Dropbox folder that allows access to mp3s of Stage 7 performances of years past.
Stage 7 past performances shared Dropbox
We shall all be reunited.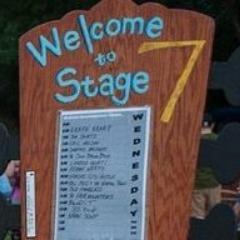 Stage 11 - Songwriters Stage
Location
Schedule
Songwriters
Location
Stage 11 is located at Fairground Road and 14th Street in the Pecan Grove at the Walnut Valley Festival. Stage 11 is an originals only stage. Songwriter must be present to play. Stage 11 is open evenings from Saturday after land rush until Saturday of the festival. The open mic format runs from Saturday to Thursday, with 20 minute sets. Sign up starts at noon the day before the time slot. This format gives those who arrive at the festival later a fair shot at time slots. Slots are easier to get earlier in the week. Friday night of the festival is new song night for songs written in the 30 days before the festival, which you can sign up for at any time. Open mic signup once all new songs are complete. Saturday night of the festival is "A & B sides" night, where you play your two favorite original songs. Signup for that begins on Friday.
Schedule
Songwriters