Where?
If you search for our festival with your GPS, you may get directed to our year-round office on Main Street in beautiful downtown Winfield. The festival itself is about 3/4ths of a mile west of downtown. Take 9th Avenue (US 160) west from downtown Winfield. The main entry gate is the western of the two entrances. The eastern entrance is for re-entry only (after you've gotten wristbands).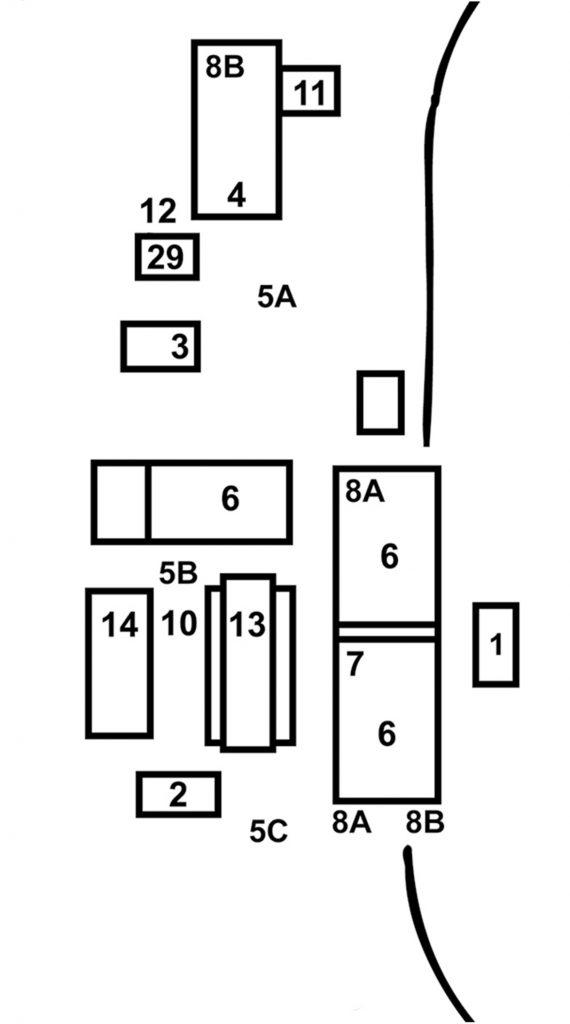 1. Stage I
2. Stage II
3. Stage III
4. Stage IV
5A. North Concessions
5B. Central Concessions
5C. South Concessions
6. Crafts Areas
7. Information Booth
8A. Restrooms
8B. Handicap Restrooms
10. Internet Cafe – Northwest Veranda
11. Contest Registration
12. Contest Warm Up Tent & North Workshop Pick Up
13. Walnut Valley Mercantile
14. Barn 10 & Massage
29. Ice Station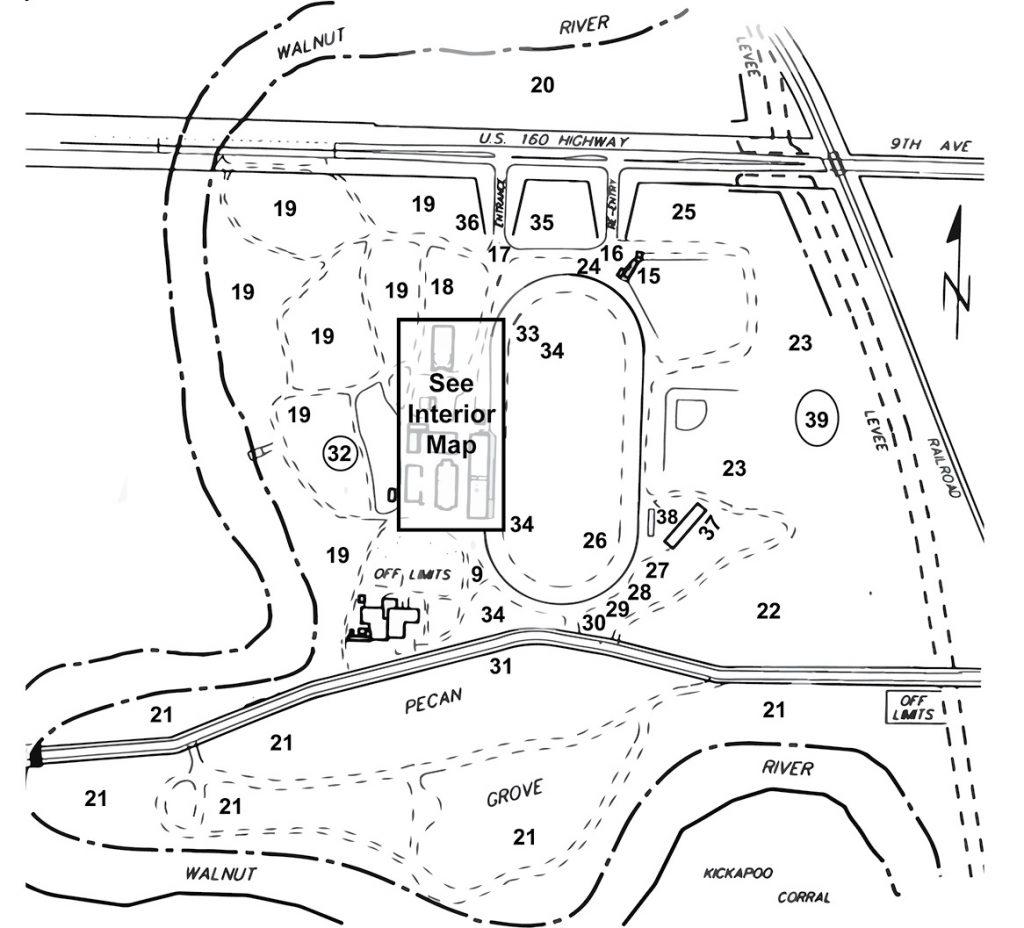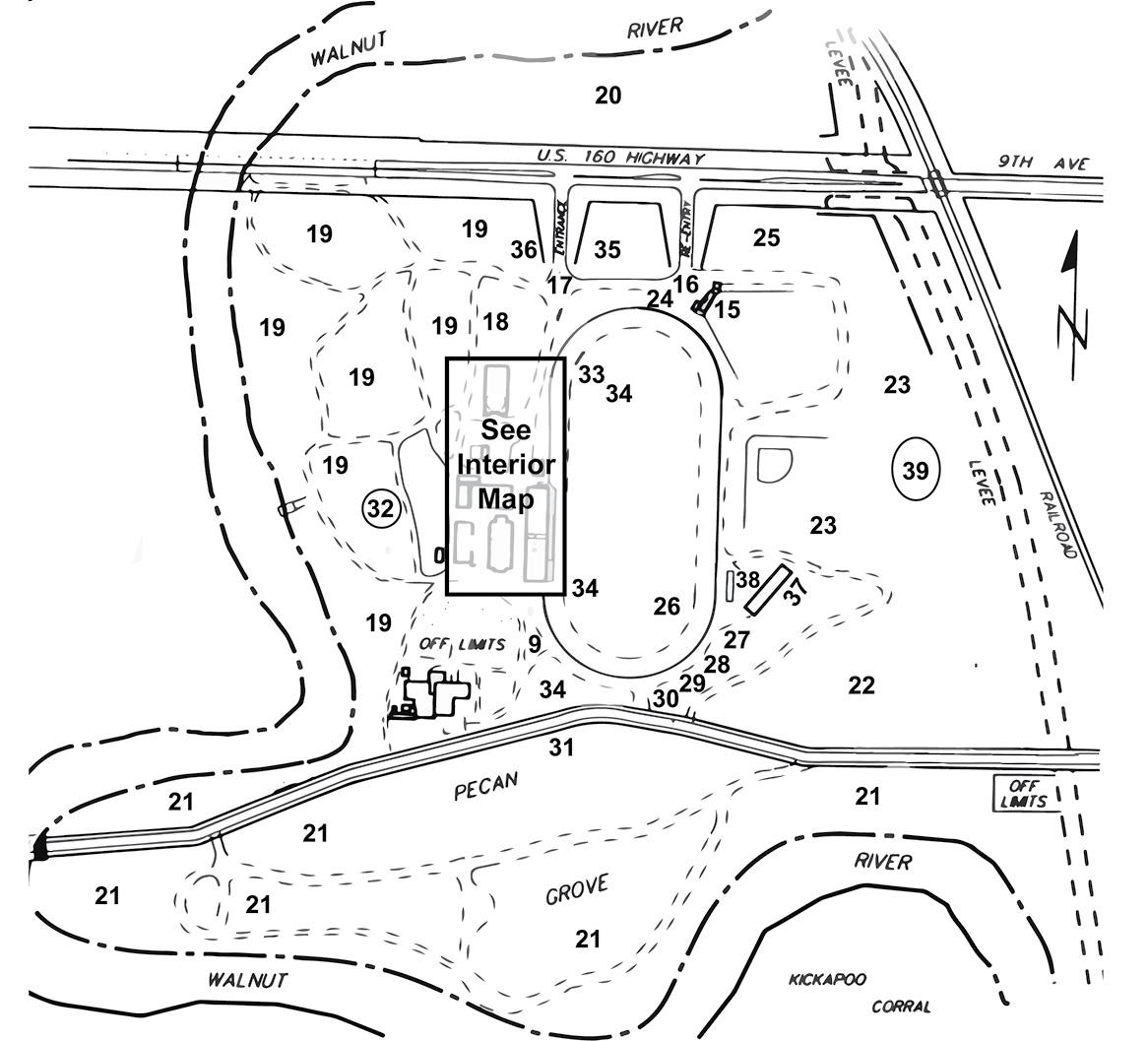 9. First Aid Station & So. Workshop Pick Up
15. Security
16. Re-Entry
17. Main Entrance
18. Handicap Camping
19 West Campground
20. West Campground-North Highway
21. Pecan Grove Camping
22. Pecan Grove-Horse Barn Camping
23. Day Parking
24. Motorcycle Parking
25. Long Term Parking-West
26. Long Term Parking-Pecan


27. Portable Showers
28. Golf Cart Rental
29. Ice Station
30. Firewood
31. Stage 5
32. Stage 6 & Feisty Music Camp
33. Worker Parking
34. Restricted Parking
35. Handicap Parking
36. Brick Walk
37. Horse Barn
38. RV Dump Station
39. Go Cart Track
Over the years we have made provisions to help our festival attendees to be able to attend and enjoy being at Walnut Valley. Some of the ways we have tried to make our festival accessible include:
Special accessible parking close to the main festival midway.
"Festy Cab". Festy Cab will provide golf cart transportation from the accessible parking area to the entrance gate of the festival midway and they are also available to provide a return ride back to your vehicle at the end of the day. There is no charge for this service. Festy Cab will also provide transportation into the campgrounds for a small fee as well.
Designated accessible camping area on level blacktop near the entrance of the midway.
In the festival midway, we have a number of permanent accessible restroom facilities and conveniently located accessible port-a-johns.
The Stage 1 is located in front of a large grandstand and has an ADA approved wheelchair ramp to an area reserved for wheelchair use.
The festival interior area where we have our 4 stages is paved and you should have no problem in using a wheel chair or powered assist scooter to move around.
There are accessible picnic tables in the food vendor area you can rest at – even if you're not enjoying a snack and there are bleachers and benches at Stages 2, 3 & 4.
If you are interested in competing in any of our acoustic instrument contests you will find that our contest stage (Stage 4) has a ramp for access to the performance area.
Members of the Walnut Valley Festival Security crew, Winfield Emergency Medical Service, Winfield Fire and Rescue Crew and Municipal Police Force are on grounds should you have a medical emergency need.
Every year since 1989, the Walnut Valley Festival has hired sign language interpreter Linda Tilton to be on stage with a variety of performers at the Festival each year. Besides doing sign language for the hearing impaired festival-goers, fans enjoy watching her as she exhibits her artful blend of sign language and dance while sharing the stage with other various festival performers.
Though we have always asked folks leave their pets at home the Walnut Valley Festival is and always has been therapy and service animal friendly.
Let us know what we can do to help at the Information Booth or at any of the interior or exterior entry gates.
Ice will be available at the north interior gates and near the showers, as well as from circulating trucks in the campgrounds. IIIIICCEE!!
Locally-cut firewood will be available near the showers. Help prevent the spread of invasive insects… please don't bring firewood from outside Cowley County. We may have a limited number of fire rings for sale at the entry, but encourage you to bring a fire ring if you plan a campfire. Please observe the fire safety guidelines.
Campground coffee, donuts, juice, and milk: available in the morning from the Winfield Masonic Lodge. Just listen for the 'poppin johnny' tractors.
Portable Toilets are stationed throughout the campgrounds. Please report any units needing service to the Information Booth or Ticket Trailer. We also have trucks servicing campers, available to pump RVs for a fee. To request a pump, fill out a form at the Ticket Trailer or Information Booth.
Electrical Problems – In case of electrical problems, first check to see if your neighbors have power. If they do not, write down the panel number printed on the front of the electrical box and the breaker number into which you are plugged. Please take this information to the Ticket Trailer OR to the Information Booth and fill out a Service Request Form. Someone will take care of it as soon as possible.
Wi-Fi Cafe and Charging Stations available in interior, West Veranda of the T-Shirt Barn
Free shuttle service available from North campgrounds to north gate, and from South campgrounds to South gate, from beginning of festival dates
Massage services available in Building 10 starting afternoon Monday before start of festival and throughout festival, 9am-10pm
ATMs available on grounds south of Ticket Trailer, west of Information Booth, and in the Concession area
Transportation around grounds available to Festival goers from Festi-Cab via golf carts for a minimal fee. Service begins after Land Rush