Luthier's Choice Custom Autoharp
Whippoorwill Acoustics is proud to present an 18-bar Curly Maple Whippoorwill Model autoharp, voiced for sweetness.  In honor of the Walnut Valley Festival's golden anniversary, the trim on this autoharp is 50,000 year-old Kauri wood from New Zealand that has a shimmery-gold appearance. A certificate of authenticity will be provided. Hand-crafted in Indiana, this autoharp is voiced for a balanced response from bass through treble and sounds good in any key. The setup will be customized to the winner's satisfaction.  This autoharp features French Polish finish, quarter-sawn solid woods, fine tuners and low, fast action.
Constructed with Pennsylvania cherry hardwood back and sides, mated with a Sitka spruce top, this prize autoharp will have quartersawn top and back and include fine tuners and custom guaged Schreiber strings.  It will be set up as a two key G/D instrument with lockout bars and includes a Schreiber Autoharps branded gig bag made by Blue Heron.
One silver encased 2023 Festival pick pendant will be given to the First Place winner.
Silver Pearl Designs by Debbie Winton
9125 W 82nd St N
Valley Center, KS  67147
316-841-9576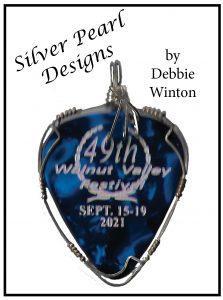 Brendan White Jewelry Designs
One each music related, custom designed jewelry by Brendan White will be given to the first place winner. 
Revolutionizing the pick industry!  One pick of choice will be given to the First Place Winner.
All contests will be held on

 

Stage IV.

  
Contestants
must have a valid wristband for the day of the contest
in order to gain admittance to the Festival grounds.