Wednesday, September 13, 2023
These wonderful artists have lots of music and insights to share.  Please read the complete descriptions of the workshops being offered.  Register online, or call the Office at 620-221-3250 to register by phone with a credit card.  These classes are IN-PERSON and Hands-On workshops, so bring your instrument & music stand!
Workshops will take place at the First Baptist Church in Winfield, 200 E 11th St., Winfield, KS.
Early Registration closes Friday, September 8 at 5:00pm. Registration reopens Wednesday, September 13 at the workshop location with Cash Only Registration. 
Please Note:  Workshop instructors may ask participants to wear masks, and masks will be on hand for any who wish to wear them.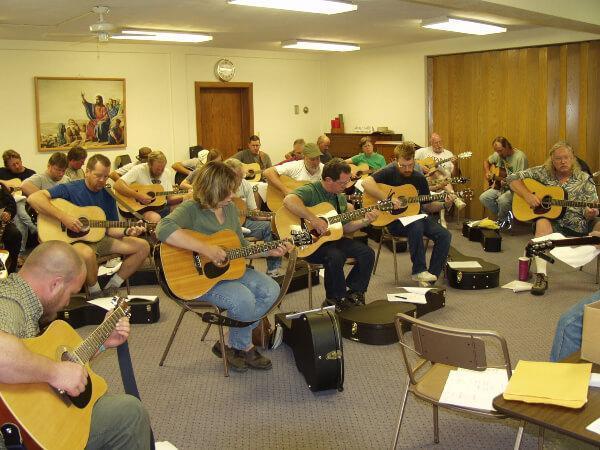 Unfortunately, WVF is not able to provide transportation from the fairgrounds to the workshop location. There is free parking on the East side of The First Baptist Church (at the corner of 11th Avenue and Loomis). Grab a friend, attend a workshop and please ride-share when possible.
Those who preregister receive a confirmation email which includes a map of the restaurants within walking distance.
Early Registration is now closed.  Registration will reopen on Wednesday, Sept 13th at 8:30am.  Please go to the First Baptist Church, 200 East 11th Avenue to register for the class of your choice.
There are openings left in all classes.
Tina Bergmann 
Hammer Dulcimer

9:15am – 3:30pm CDT  with a 1-1/4 hour lunch break       
Advanced Beginner/Early Intermediate through Upper Intermediate Skill Level

Class #23wksp1
We'll take the tune "Goddesses," arranged to have right hand ostinato and left hand melody, and use it as a springboard to explore variations, split hand work, accompaniment, improvisation, and musicality. This tune works well as an interesting solo/duo piece (we've played it in concert for years!) and is also easily reworked for a small ensemble or club for beginners through Upper-Intermediate players. We'll start with a variety of hand separation exercises that will challenge your brain and accuracy, learn what it means to have a Generalized Gaze, and how it affects your ability to play smoothly and easily. After diving into the tune we'll branch out to create variations/techniques that can be layered and applied to other tunes in your repertoire, and explore how different accompaniment techniques affect the overall arc and feel of the tune. Along the way we'll have a discussion about chords, using them as a framework for variation and improvisation.
A degree in K-12 Music Education, plus 40 years of private teaching, week-long camps, and intensives enables me to teach to several levels at once, ensuring that everyone will get a lot of the workshop, regardless of where they fall on the level descriptor. 
This Advanced Beginner through Upper Intermediate class will run from 9:15am to 3:30pm with a 1-1/4 hour break for lunch.
Cost is $90 per Participant
*** Minimum of 6 Preregistered Participants
Maximum of 20 Participants
Amanda Grapes Dellinger
Violinist to Fiddler
Noon to 4pm CDT         Intermediate to Advanced Skill Level
class #23wksp2
2021 and 2015 WVF Fiddle Contest finalist Amanda Grapes is the fiddlist for Pixie and the Partygrass Boys. Classically trained from the age of two and a backwoods Kentucky fiddler since the age of 7, she prefers the term "fiddlist" to describe her unique blend of both genres. Amanda teaches private lessons in Utah to adults who already play the violin but want to expand their abilities and options to be able to perform or jam in the bluegrass scene.
In this workshop we will explore how to take the skills you already have as a classical musician and apply them to bluegrass tunes and jams. We will begin by learning a couple of fiddle tunes using sheet music and/or ear training. Next, we'll explore how to use scales, arpeggios, and a variety of standard fiddle licks to use for improvisation and accompaniments on those fiddle tunes. Finally, we will tie these skills together by engaging in a practice jam session in preparation for your grand debut as a jamming fiddler in the campground this weekend!   
Participants can be complete beginners to the bluegrass fiddle genre but should have at least an intermediate skill level on the violin instrument. You should be able to play by ear or read sheet music but both are not necessary; both methods will be utilized together in this workshop.
This Intermediate to Advanced Skill Level class will run from Noon to 4pm.
Cost is $65 per participant
*** Minimum 4 Participants Pre-Registered
 Maximum of 15 participants.
Les Gustafson-Zook
Let's Jam! – Autoharp
9:30am – 4pm CDT          Advance Beginner / Intermediate Skill Level
class #23wksp3
Here is a great opportunity to pull out your harp and get warmed up for the Winfield jams. Join Les Gustafson-Zook, two time Winfield champion and popular autoharp instructor and performer for an excellent chance to improve and expand your autoharp skills.
Using well known folk and fiddle tunes, we'll review basic accompaniment strum options for singers and backup players. Using that base we'll move to melody picking with a focus on finding melodies in simple tune arrangements. Finally, we'll cover techniques for increasing clarity and complexity to improve your ability to keep up with tunes in a jam. Before you know it, you'll be taking the lead in your favorite jam session!
Bring your tuned chromatic harp and join the group to take your abilities to the next level. All levels of players will discover tools and tricks to expand your skills in the context of a supportive and encouraging group. Join us for a fun and rewarding adventure!
This Advanced Beginner / Intermediate skill class will run from 9:30am to 4:00pm CDT with a 1-1/2 hour break for lunch.
Cost is $85 per Participant
*** Minimum of 3 Preregistered Participants 
Maximum of 20 Participants
Jamie McKeogh
Irish Flatpicking Guitar
10 am to 4pm CDT          Intermediate Level
class #23wksp4
This workshop will cover Irish flatpicking guitar and Irish backing/ accompaniment in standard tuning. We will cover many Irish reels, jigs, hornpipes and other dance tunes along with many bluegrass tunes which would have originated as Irish tunes. We will focus on the notation of the tunes for flatpicking and delve into ornamentation, rhythm and variations typical to the Irish style. The backing/ accompaniment side of things will give instruction how to accompany an Irish or bluegrass tune in an Irish style through chord selection, chord progressions and right hand rhythm playing. This will allow the player to sit into any session and accompany tunes in anny key or time signature. All of the above will be in standard tuning for guitar. 
This Intermdiate level class will run from 10am to 4pm with a 1-1/2 hour break for lunch.
Cost is $80 per participant
*** Minimum 4 Participants Pre-Registered
 Maximum of 12 participants.
Daithi Melia
Irish Tunes on the 5-String Banjo with Daithi
10am – 4pm CDT         Intermediate / Advanced Level
class #23wksp5
Learning traditional Irish reels and jigs on the five string banjo.
The five string isn't the most common choice of instrument for playing these tunes but it brings it's own unique and wonderful sound to these beautiful Irish tunes.
The workshop will consist of learning traditional Irish reels and jigs using a combination of melodic and single string techniques. We will also learn various techniques to ornament Irish tunes including triplets and grace notes. We will also learn how to play back up for the reels that are in 4/4 time and the jigs which are in 6/8 time.
You will be able to add these various techniques to your bluegrass tunes to give them an Irish accent. Top o' the morning to y'all! (Comedy material not included)
We will cover the crossover between the two traditions of Irish and Bluegrass and have a lot of fun doing it!
During the workshop each picker will receive tablature for all of the material.
Looking forward to pickin' with you and seeing you all there!
Sláinte,
Daithí
This Intermediate / Advanced level class will run from 10am to4pm with a 1-1/2 hour break for lunch.
Cost is $80 per Participant
*** Minimum of 4 Preregistered Participants 
Maximum of 10 Participants
10am to 4:30pm CDT         All Skill Levels
class #23wksp6
A song is the world's most powerful way to tell a story, share a complex feeling, or change the world.  Songwriting is a spell so captivating that once you are in it, you have at your fingertips the tools to create an even better song.  You can start with a tidbit  and because of that spell, your tidbit expands with your imagination, into a song.  Learn how to capture the ideas around you, use tried and true techniques to develop ideas, chord progressions, song structures, a beat and rhythm, and more.
I have enthusiasm to share that might encourage someone else to learn the joys of the craft of songwriting. Let's explore some techniques used by some of the acknowledged great songwriters of our genre. Simple tools that set you free to be creative, and help to facilitate both your music and poetry. 
Bring your instrument of choice, though you don't have to play to write songs. Gather your thoughts about songwriting. We'll be wanting to hear from you. 
Bob Shane once asked me to write him a hit song about the Kingston Trio. Now, I don't know how to write a hit song, although I did accept his challenge. I'm so captivated by songs in general that any effort to that end sounds like a worthwhile pursuit. And, I had some things to say about his legendary Trio. Weren't songs the construction material with which he built his global career? 
Being a fan of The Dillards and The Limeliters, I was honored that they both covered a couple of my songs each. The legendary Sam Bush had a hit with my composition "Howlin' At The Moon", and he's been singing it for over two decades. (The originators of Telluride Bluegrass Festival first heard Sam's Newgrass Revival at Winfield back in the early '70s and the rest is Colorado history.) The Nitty Gritty Dirt Band's Jimmy Ibbotson sang "Howlin' At The Moon" on our Wild Jimbos' MCA record, and it's been featured in a movie and covered multiple times. It's been quite a good friend to me. 
And, yeah, I wrote that song for Shane, called "Singing Every Inch of the Way". It wasn't a big hit, but he recorded it and released it twice. It's the final song on the last recording he ever made. At the end of his memorial service a couple of years ago, this Bob Shane recording came over the speakers singing the story of his life. 'Singing every inch of the way'. 
Let's get together and celebrate songs!  
This All Skill Levels class will run from 10:00am to 4:30pm with a 1-1/2 hour break for lunch.
Cost is $80.00 per participant
*** Minimum 5 Participants Pre-Registered
 Maximum of 20 participants.
Stephen Seifert
Mountain Dulcimer A to Z Condensed
9:00am – 4:30pm CDT          Skill Level: Intermediate & Up
class #23wksp7
This is a trimmed-down version of the three-day workshops I've been offering around the country. We'll cover a bunch of important playing concepts including strumming, flat-picking, finger-picking, playing with variety, chords, backup, and chord-melody. With each idea, I start at the beginning and quickly move to intermediate and up as interests permit. Expect a bunch of my favorite tunes and arrangements. Brave beginners with great attitudes are welcome, but the focus will be on intermediate and up.
This Intermediate & Up class will run from 9:00am to 4:30pm CDT  with a 1-1/2 hour break for lunch.
Cost is $65 per Participant
*** Minimum of 5 Preregistered Participants 
Maximum of 30 Participants
Mark Sganga
Finger Style Guitar
10am 4:30pm CDT               Intermediate to Advance
class #23wksp8
We will be reviewing and discussing various Finger Style Guitar techniques and how to apply them in an arrangement.  You will have the opportunity to choose a couple of tunes to learn and apply these lessons in class and build on your finger style and arranging skills to help you create an outstanding presentation. 
This Intermediate Level class will run from 10am to 4:30pm with a 1-1/2 hour break for lunch.
Cost is $85 per participant
*** Minimum 3 Participants Pre-Registered
 Maximum of 12 participants. 
Gavin Strappe
Beginner Mandolin
10am to 4pm          Beginner Skill Level
class #23wksp9
This beginner mandolin workshop will focus on learning session friendly fiddle tunes from the bluegrass & Irish music traditions. It will also examine the crossover between both traditions and the similarities they share. This workshop will also take a look at the ornamentation & variations used in Irish dance tunes such as reels, jigs, slip jigs & hornipes etc. and how they can be incorporated into bluegrass fiddle tunes. The aim of the workshop is that students learn a mixture of tunes from both genres while also learning ornamentations & variations associated with the Irish music tradition while also gaining an understanding of the crossover between both genres in a fun & relaxed environment. 
This Beginner Mandolin class will run from 10am to 4pm  with a 1-1/2 hour break for lunch.
Cost is $80 per participant
*** Minimum 4 Participants Pre-Registered
 Maximum of 10 participants.
Linda Tilton
Super Duper Beginning Ukulele
9am to Noon CDT               Beginner Level
class #23wksp10
This course is for beginning ukulele players.
We will cover tuning, basic chords, beginning strums and transposing to different keys.  Commonly known songs often played at "Winfield" jams will be taught.  Both standard & baritone tuned ukuleles are welcome.
This Beginner Level Ukulele class is 9am to Noon CDT.
Cost is $70 per participant
Minimum of 5 PreRegistered Participants Aged 10 or older
Maximum of 15 Participants
Linda Tilton
Ukulele Picking & Strumming
1:30pm to 4:30pm CDT              Advanced Beginner to Intermediate Level
class #23wksp11
This course is for ukulele players who already know basic chord progressions.  Focus is on fingerpicking, strum patterns, reading tablature and chord melody.  Both standard & bariton tuned ukuleles are welcome.
This Advanced Beginner to Intermediate Level class will run from 1:30pm to 4:30pm  
Cost is $70 per Participant
*** Minimum of 5 Preregistered Participants aged 10 or Older
Maximum of 15 Participants