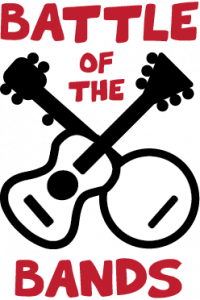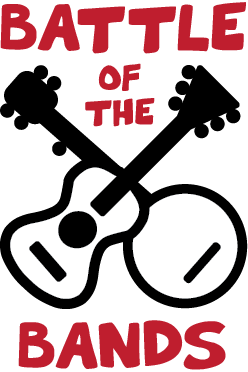 Every year at Winfield you can see some amazing bands playing in the campground at the Walnut Valley Festival. Some bands are on the smaller stages scattered around, but others are jamming at camp sites or along the side of the road as you wander the campgrounds.
We thought we would bring some of the flavor of that to our virtual festival by bringing back a VERY OLD institution—the Battle of the Bands!  (In the early years of the festival there was a battle of the bands as a separate contest. The competition was discontinued as the individual instrument competitions grew)
Votes will be taken until midnight on Friday, September 18.
The winner will be announced in a live stream on Sunday, September 20. Winner will be invited to become part of the lineup to play on the interior at our 49th Walnut Valley Festival in 2021.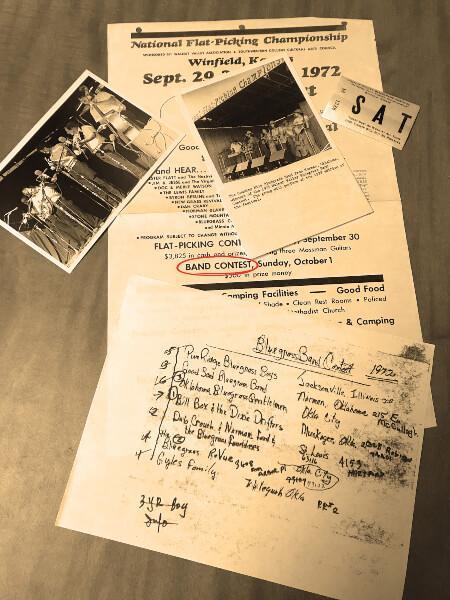 Please Note: There may be a delay between casting your vote and it appearing in the band's totals.
[woobsp category='battle-of-the-bands' posts='3' thumbnail='yes' stars='not']
[wshk_product_sales id="9402"] Votes
The Dirty Strings is a Northwest Arkansas regional Jamgrass band featuring guitarist Adam Johnston, mandolinist Elijah Brinson, and bassist Garrett Jones that blends multiple genres including bluegrass, rock and roll, jazz, and reggae. This string band enjoys picking on classic tunes in the style of bluegrass but is not afraid to enter the realms of jam and psychedelia. thedirtystrings.net for more information.
[wshk_product_sales id="9408"] Votes
Criss-crossing the country for the past nine years from the East Coast to the Rockies, this acoustic trio uses mandolin, guitar, upright bass, and vocal harmonies to captivate audiences with their crafty songwriting, fiery improvisation, and soulful delivery. The band's versatility spans the range from rootsy folk to hot swing to bluegrass and blues, and makes them equally at home whether performing in an intimate club or on a large festival stage.

The Vine Brothers were awarded Americana Group of the Year in 2016 by The International Music and Entertainment Association's 4th Annual IMEA Awards. Their third album No Candy was nominated for Americana Album of the Year , and the song "The Well" received a nomination for Americana Song of the Year. The song "East of Albuquerque" was chosen as a finalist in the 2016 International Songwriting Competition (ISC) for Best Instrumental, while the 2018 single "Get Me To Arkansas" was a finalist in the 2018 ISC for Best Americana song.

The band's first two albums, 2012's Low Rent and 2013's The Devil and the Deep Black Sky received considerable airplay on over 100 stations in the US and Canada and charted in six cities. One of the songs from Low Rent, "Three Bottles," was featured on the Discovery Channel show Vegas Rat Rods. In 2019, the band released its fourth full length album Surfing Through The Looking Glass.
[wshk_product_sales id="9462"] Votes
A trio of longtime friends and musical collaborators, Kansas City's Old Sound crafts traditional and original folk music. Led by Grady Keller's imaginative storytelling, Old Sound travels through song with solid three-part harmonies and evocative acoustic compositions. The trio is strengthened by the exploratory bluegrass flat-picking style of Chad Brothers and the playful doghouse groove of Greg Herrenbruck on upright bass. With musical roots in their hometown Winfield, Kansas, Brothers and Herrenbruck cut their teeth in the picking circles and campground stages of the Walnut Valley Festival. Paired with Keller's colorful melodies and lyricism, Old Sound's approach makes for easy front porch listening.

Old Sound released the studio album "Rain Follows The Plow" in Spring 2014. Recorded and produced by Phil Wade of The Wilders, the album showcases the band's well-worn chemistry and acoustic musical interplay. The Pitch Magazine said "Rain Follows The Plow assuages any headache, calms any painful maladies and stirs you out of any dusty depression." The trio also released the holiday album "An Old Sound Christmas" in November 2017, putting "a new spin on Christmas" according to KSHB TV. The band performs regularly in Kansas City and regional area festivals, club venues, breweries and listening rooms, including past residencies at Worlds of Fun's WinterFest. Old Sound is set to release the brand new studio album "Deluge" in September 2020.
[wshk_product_sales id="9625"] Votes
Pretend Friend is an acoustic trio from Wichita, KS. Distinguished by dynamic performances and tight-knit instrumentation, Pretend Friend has been described as "jamgrass," "new high lonesome," and "if Robert Plant and the Stanley Brothers had a baby." Featuring Grant Boesen on guitar and lead vocals, Brody Wellman on upright bass, and Evan Ogborn on mandolin, Pretend Friend melds elements of folk, bluegrass, blues, and rock genres. Pretend Friend's original music draws from jazz and classical roots, and their versatility is shown in their interpretations and combinations of traditional and pop styles.
[wshk_product_sales id="9818"] Votes
CREATING CONNECTION THROUGH MUSIC
Wild with purpose, the women of Dandelion Heart endeavor to create a unique Americana sound, blending four individual songwriting styles. These dandies are rooted in Northwest Arkansas, with a passion for making music, and having fun creating with each other. The band is comprised of Lacy Hampton (guitar, piano, hand percussion,) Chase Hart (guitar, hand percussion,) Korey McKelvy (mandolele, banjo,) & Willa Thomason (cello, guitar, hand percussion.) They started out playing mostly covers, with some originals from previous projects (Aisle 24, The Ozark Travelers, The Silver Lining,) but quickly began evolving their set to include more originals born from this collaboration. This group of four vocalists & multi-instrumentalists creates a dynamic set that is fluidly shifting throughout. Dandelion Heart strives to capture the beauty in simplicity, with penetrating harmonies &, at times, sparse instrumentation. Expect to hear a blend of folk, blues, bluegrass, rock, & indie sounds from this up & coming hometown band.
[wshk_product_sales id="9843"] Votes
Grody Riggins is a 5 piece newgrass bluegrass band.   They have been called: 'Mountaingrass", "Tallgrass", Swampgrass" and more!  They write and create all their own material and enjoy blending traditional bluegrass with newer styles!
[wshk_product_sales id="10006"] Votes
Unfit Wives made their initial appearance on the scene in January 2019 as a four-piece act strapped with instruments, clad in boots, and armed with original tunes. Huddled around a single mic, each member of the group takes turns singing and delivering their own unique brand of "unfit"-ness.
Unfit Wives have performed in a variety of settings from bars, wineries and private events, to larger listening rooms including Knuckleheads Saloon, Liberty Hall, and The Granada Theater in Emporia, KS. The Wives, who've been WVF attendees for 30+ years collectively, also made a point to attend the 48th annual WVF in 2019 where they played Stage 7 and the Fine Time stage. No matter the size of the stage (or if there even is one), these ladies bring hot licks, humorous lyrics, feisty four-part harmonies and a high-spirited performance to every show. Their original songs incorporate honest emotions of Unfit Wives and the name was inspired by society's pressure on women to conform to its standards. Some of their influences include Wanda Jackson, Dolly Parton, Emmy Lou Harris, Patsy Cline, The Dillard's, Merle Haggard, The Dixie Chicks, Bill Monroe, and Split Lip Rayfield.
[wshk_product_sales id="10012"] Votes
Cowtown Country Club uses glittering four-part vocal harmonies, country and western sounds, and a special brand of countrified covers to create an unforgettable music experience for audiences. They are quickly gaining a reputation for their signature style mixing classic sounds and irreverent musical fun in every song and every performance.
[wshk_product_sales id="10075"] Votes
A new kind of bluegrass revolution is happening in the unlikely town of Taos, New Mexico. With a fresh rip -snortin' approach to strong melodically driven songs that have been carefully crafted to have a sound all their own. The band has been pushing their way to the forefront of the New Mexico bluegrass scene. Formed around late night jams at the prestigious Walnut Valley Bluegrass Festival, they blur the lines between traditional bluegrass roots music and more contemporary styles. Jacob Hagerty-mandolin, Andy Yeomans-guitar,
Willie Hunton-dobro, Zephaniah Stringfield-guitar.
[wshk_product_sales id="10171"] Votes
The Burnt Ends were formed in the 1990s in south Kansas City, Missouri. They have performed over 250 times mostly for church and non-profit fundraisers. The band brings a unique blend of bluegrass, Americana, folk, pop, country and Irish music to their audiences. All eight band members are parishioners at St John Francis Regis parish.
[wshk_product_sales id="10249"] Votes
Dalton City Limits is an association of talented musicians based in the area surrounding the Walnut Valley and Winfield, Kansas. Formed in 2015, DCL has meticulously crafted and honed their sound that has evolved from many diverse influences such as classical, bluegrass, swing, rock and blues. You may have seen them jamming in the wee hours of the morning or caught one of their high powered sets on Stage 5, City of Winfield Bluegrass Crawl, Patton's Picking Parlor or College Hill Coffee just to name a few.
Cast of characters include: Larry Guthrie – Guitar, Rick Palsmeier – Fiddle, Wes Guthrie – Dobro, Darrel Wassinger – Bass, Robert Bagot – Banjo. Several members of the band have grown up around the Pecan Grove and served as unofficial ambassadors of the Walnut Valley Festival since the mid 70's, sharing tunes, learning from and teaching others how to play and enjoy music as a livlehood.