Great Performers are Coming in 2023!
Walnut Valley Festival
A Fabulous 50 Years in the Making
Thank you for helping us to commemorate our big 5-0. We enjoyed celebrating it with more than 10,000 of our closest friends.
Winfield, A Bluegrass Musical, was even more magical than we could have imagined. We thank the good folks at Southwestern College's Theater Department, as well as community members, who transformed Ken Gale's vision into reality. Seth Bate was central to that effort, and also created a perfect companion piece for our 50th, by writing Winfield's Walnut Valley Festival.
The reviews of the book have been glowing, including this note from Dan Miller in Bluegrass Unlimited: "The Book does a wonderfully good job of covering all of the various aspects of the festival and it captures them with the feel, flavor, detail and importance they deserve." We still have copies of the book available, and are taking orders online at wvfest.com/shop/
Festivals and venues are still suffering the effects of COVID, and it continued to have an impact on our operations. Our setup and gate operations were subject to complications around COVID cases, and we know that some in the campground had to leave early after contracting it. We thank the City-Cowley County Health Department, and in particular Tom Langer, for on-grounds assistance again this year.
We successfully transitioned to a fully online ticketing process with ETIX, where you were able to get your tickets delivered straight to you via e-mail or a device. Many noticed the difference at the main gate, where our runners were able to take credit card payments, making that wait just a bit shorter. We had some hiccups, but in general we are happy with the changes and look forward to having an even better experience for you when you enter grounds next year. Early-Bird Tickets are available for purchase online at wvfest.com/tickets or in our office—they make great holiday gifts.
We know we failed when it came to the opportunity for you to purchase commemorative wear at WVF 50. As Executive Director, I take personal responsibility for that, and I apologize. It was my decision to go with a pre-order format for shirts and, although I did it with the best of intentions, we clearly did not do a sufficient job in alerting everyone to the change in operations. I want to make clear that I did this, and in no way were the outstanding designers at Kinfolk Created or the amazingly tolerant personnel at our Mercantile responsible for this problem. I am working to ensure we have apparel options onsite in 2023.
Overall, though, the surveys we received gave us high marks for the lineup of performers, as well as for our overall organization of WVF 50. That amazing lineup, appropriate to mark our 50th year, came at a higher cost to us than ever before, as performers and agents dealt with rising transport costs and disturbances industry-wide. Rising fuel costs and inflation also played havoc with our budget across the board, from port-a-pot rental to stages and sound.
For those paying attention, ticket prices did not increase from 2021 to 2022, at a time when costs for most goods and services across the nation rose significantly. We will have to make a significant increase in ticket prices this year if we are to survive as a festival. Winfield is still a very good value for the money, especially when compared to ticket prices for similar festivals around the country.
This is our third E-Occasional, and we enjoy what this format allows us to do. Instead of just reading about the results of this year's contests, you can now listen to the champions' winning competition sets as well as their encores. With the click of a button, you can hear interviews with the champions, which originally aired on our campground radio station, 105.7 FM. And you can watch the talented songwriters who took part in our two NewSong Showcases at the 50th Walnut Valley Festival.
In January, we are planning for our third virtual Battle of the Band, as we invite performers that have never been part of the official lineup to vie for the chance to play on the big stages in 2023. You can vote for your favorite band(s), and know that the money collected through the voting process will go directly toward the fees to hire the band that YOU have chosen.
We have been putting together an amazing lineup of performers for our 51st festival, some of whom are featured in this newsletter. Aside from the official stages with hours of talented picking, we'll have 8 instrument championships, a juried arts and crafts fair, and some great food vendors. I think you will agree that we are all in for a good time as we kick off the next 50 years of Winfield.

Bart Redford
Executive Director
Listen to interviews with WVF 50 Contest Winners.
Hear their competition sets, and their encores during award presentations.
2nd Loriann Clayton-Bethard
1st Betty Scott
3rd Steve Luper
2nd Hiroya Tsukamoto
1st Tim Thompson
3rd Bill Russell
2nd Lloyd Wright
1st Kara Barnard
3rd Dana Hamilton
2nd Ethan Batan
1st Holten Doucette
3rd Ben Cockman
2nd Amanda Grapes Dellinger
1st Eavia Ryan
3rd Nathan Pedneault
2nd Justus Ross
1st Holten Doucette
3rd Ian Ly
2nd Robert Miller
1st John Lionarons
3rd Mickey Sweeney
2nd Steven Moore
1st Jesse Meador
3rd Anthony Howell
Walnut Valley Festival would like to thank the following, who made possible the linked audio and visual materials  included in this Occasional:
     Stage IV Sound Crew:  Greg Smyer, Jim Phillips, Andy Colclasure, Matt Anderson and Seth Gruebel
     Campground Radio: Joe Taverner and Ron McCleary 
     Stage 11 Video (Gypsy Wagon):  David Hakan
Thank you for all your hard work.
2022 Newsong Showcase Winners
Watch NewSong Showcase sets from Thursday and Saturday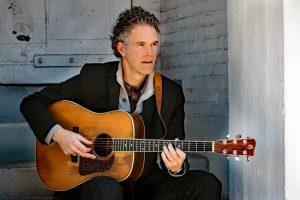 Chris Jones NewSong Showcase Curator 2020- Present
Chris Jone's statement about the 2022 NewSong Showcase entries:  "I was so impressed with the quality of submissions for NewSong Showcase this year; they really were exceptional. I love the process of discovering new songs, so I really appreciate the chance to curate NewSong Showcase on behalf of Walnut Valley Festival. Every year I'm so grateful to the outstanding judges who lend their ears and their hearts to the difficult task of determining winners, and who have compiled some really valuable feedback to get out to all the writers. I'm especially thankful to the songwriters who open themselves up every year and let us hear their work and their art."
Registration opens
March 1, 2023
2022 Paulette Rush Arts & Craft Show Winners
One of the best arts & crafts shows in the area, 2022 witnessed many fine artisans returning for yet another Walnut Valley Festival. Many of the more than 80 displays were first-timers, producing drawings, paintings, jewelry, woodcrafts, glass, metalwork, baskets, pottery, weaving/spinning, leather, herbals & soaps, childrens' items, a number of food-related items and much more. Artists, crafters, and luthiers came to Walnut Valley from over 20 states… Washington to Alabama, California to Pennsylvania, and lots of local favorites.  Below are the 2021 Arts & Craft Show Winners, as judged by an independent panel of artists.   
Congratulations to the 2022 Paulette Rush Arts & Crafts Show Winners
Honorable Mention
Denise Renee & Ernie Kind – Wild Wit Art –Wichita, KS
Dennis Crider –Dennis Crider Photography -West Plains, MO
Jackie Swafford – Keetonville Hill Pottery -Claremore, OK
Joseph DeLord – Joe Natural – Montgomery, TX
Wanda Headrick –Flinthills Aromatherapy – Atlanta, KS
Krystle Cole – Krystle Cole Fine Art – Wichita, KS
Amy Fitzpatrick – Care Creations and Metal Works – Yellville, AR
by Lovegrass Music Festival Assoc. Board Members & Friends & Family
Krista Kraus, Aimee Riegel, Jason Riegel, Erin Nichols, Russ Baker, Susan Bauer, Luke Brungardt, Jill Brungardt, Dixie Matzer
Ben & Pam Russell & Family, Chris & Ivy Hendrix, Ray Schmidt, Anna Woodworth, Maggie & Shannon Menhusen & Family, Jean Cullum, Kevin Conover, Dorthy Malsom, Floyd Moore, Tene Ramirez, Brady Ramirez, Ruth Raborn, Jaina Mossburg & Family, Jeff Landes, Brendan French, Gail Freedle & Family, Ryan Collins, Evy Adamson, Laura Poskochim, Kevin Edwards, Tammy Lanman-Henderson
Tim, Karen & Ella Aiken
(Camp name was inspired by Béla Fleck's song Blu-Bop.
We have seen him over 40 Times!)


2022 Feisty Music Camp for Kids
Feisty Music Camp 4.0 (4th year) was another big success!
Erin Mae Lewis and Aaron Fowler led a total of 96 kids through two afternoons of musical inspiration and fun, with activities including sing-alongs, storytelling, songwriting, rhythm games, music related crafts, and playing mountain dulcimers, ukuleles and spoons and special musical guests.
All who participated enjoyed performances by Tom Chapin with Michael Mark & Jon Cobert, Still on the Hill, Barry Patton with 3 TRAILS WEST, JigJam and Andy May's Acoustic Kids. Thanks for making the day a little cooler by being there.
Other special guests who performed were Ann Zimmerman, Jeremy Blaes w/ Gretchen Priest-May, Carp Camp, Pink Elephant Camp, Seth & Seaf Bate, Max Finkeldi and Ann Gordon.  Thanks for sharing your talents with our up and coming artists.
A Big Thank You go to the Stage 6 Crew for hosting the camp, Laura Dungan, Ricky Emery, Laura Hansen, Justin Lewis for helping with registration/set-up & clean-up; to Great Plains Dulcimer Alliance for the use of kids mountain dulcimers; and to Winfield Arts & Humanities for the use of kids ukuleles.  A Very Big Thanks go to the Walnut Valley Festival Grounds Crew who made sure we had plenty of ice water through the hot afternoons.
Don't forget to watch for details for the 2023 Feisty Music Camp!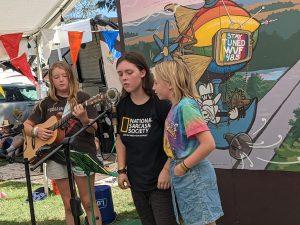 Cartoon Caption Contest is a Big Hit
New to the Walnut Valley Festival Fun for this year was the Cartoon Caption Contest that Walnut Valley hosted on our Facebook Page during the festival.  Richard Crowson, a highly respected editorial cartoonist and friend of the festival, donated one of his drawings for WVF Fans to create a caption to go with it.  Your creativity came through with some funny and great captions.
Congratulations to Tracy Morris, from the Kansas City area, for the winning caption.  Tracy won a framed, color version of the cartoon with her caption included.  Thank you Tracy, and all of you, for participating in the fun activity.
Bob's Place to Host Jam Sessions
Beginning 2023 Bob's Place will host monthly gatherings for jam sessions. In January, first gathering is for beginners to intermediate pickers, and will be Thursday, Jan. 12, 7pm. Second gathering will be for advanced, and will be Saturday, Jan. 28, 1pm. Anyone is welcome to attend either or both session, however. If you would like to be on the contact list, send email to hq@wvfest.com, in subject line, Picking at Bob's Place.
These are some of the recordings WVF Staff have been listening to during the last few months.  Be sure to  listen to some of these artists and add them to your listening library.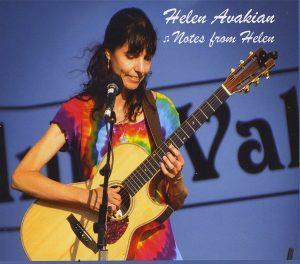 Helen Avakian
Notes from Helen
Self produced
"Notes From Helen" is Helen Avakian's first solo guitar album, and it is named after her website blog. It is a collection of Helen's original guitar instrumentals and arrangements of some of her long time top favorite songs including "Icarus" by Ralph Towner, George Gershwin's "Rhapsody In Blue," Stevie Wonder's "Signed, Sealed, Delivered (I'm Yours)," Jay Ungar's "Ashokan Farewell," and The Beatles "In My Life." Helen was especially thrilled and honored to have guitar star, Pete Huttlinger, join her on his arrangement of the traditional Irish tune, Monaghan Jig. Helen used the prize money she won in the 2014 International Fingerstyle Guitar Championship to help fund the recording of this CD. "What a thrill to review the first instrumental CD from Helen Avakian, and not just because she's the first woman to win, in 2014, the International Fingerstyle Championship, which draws virtuoso guitarists from around the world. (Note that the contest, which has been around since 1979 as a national championship, was only once won by a female performer, Muriel Anderson, in 1989.) No, the thrill comes because Notes from Helen is an extraordinary CD, ranking with the very best fingerstyle – or any style – guitar album. Avakian, formerly of New York area and now hailing from Madison, Wisconsin, is already an acclaimed singer songwriter with two previous CDs; here she has put together a collection of guitar instrumentals. The pieces are stylistically and musically varied, ranging from folk, Celtic, classical, flamenco and pop, all sparkling with originality and verve. It's hard to decide what's most impressive – the fresh, intelligent arrangements, the arresting original compositions, or the dynamic and lyrical playing. Avakian studied classical guitar and only recently ventured into fingerstyle, which makes her accomplishment even more stunning. Her playing is brilliant; she can play flashy (traditional jazzy "Rhapsody in Blue," George Gershwin), funky ("Signed, Sealed and Delivered," Stevie Wonder), or acoustic fingerstyle of great emotional depth (Jay Ungar's "Ashokan Farewell" or her own "McTammy's Jig"). But for heart-stopping beauty listen to the tempestuous and complex "Zambra" (her original, though based on a traditional flamenco piece) or her powerful arrangement of Ralph Towner's "Icarus." Her technique is masterful, especially her right-hand wizardry. Every piece is studded with flawless tremolos, bell-like harmonics, and forceful strumming, like rasqueado. It is perhaps her control and nuance of dynamics that's key to what makes her playing so distinctive, as she moves from delicately soft to strong and assertive as the music dictates. With Notes from Helen, Avakian is well on her way to joining the ranks not only of top female guitarists but of the best fingerstyle guitarists, period.
Céline Keating, Minor 7th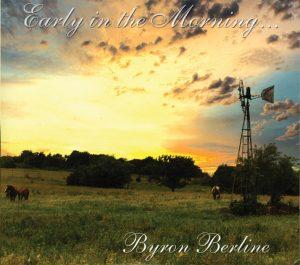 Byron Berline
Early in the Morning
Double Stop Music
When Byron Berline passed away on July 10, 2021, the world lost a musical giant. Though perhaps the most-recorded fiddler in bluegrass music history, Byron added his fiddle to countless recordings in many styles of music. From his landmark recording debut in 1965 with The Dillards on their Pickin' and Fiddlin' album, to his stint as a member of Bill Monroe's Blue Grass Boys, to recording with the Rolling Stones in 1969, Berline blazed a trail that only ended at his passing. The list of artists with whom he recorded reads like a "Who's Who" in music, from Henry Mancini to Bob Dylan, and includes names like the Byrds, the Band, Rod Stewart, Elton John, James Taylor, the Doobie Brothers, and so many more. Byron Berline was even a member of Stephen Stills' Manassas, and the Flying Burrito Brothers, a band that spawned his own group, Country Gazette, who performed at the first Walnut Valley Festival in 1972. Berline's bands that followed included Sundance, the L.A. Fiddle Band, Berline, Crary & Hickman, California, and the Byron Berline Band, all of which have performed at Winfield over the years. No fiddler is more associated with this festival than Byron. Shortly before he got sick, Byron sent me his new album, Early in the Morning. To my way of thinking, this project is a masterpiece. It's a three CD set, and includes 63 fiddle tunes, all composed by Berline. Each of the CDs has its own theme. The first one is called "Old Time," and the tone is set with the title track, "First Thing in the Morning," with just Byron's fiddle and tapping foot, in the style of his dad, Lue Berline. But by the second tune, "Call of the Wild," the entire Byron Berline Band kicks in gear and it's off to the races. Berline's nephew, Barry Patton, shines on several tracks with his world-championship bones playing. Having 22 "old time" fiddle tunes in a row might sound boring to some, but these tunes are all so different from each other, and the band has such excellent arrangements, that they demand repeated listenings. The second CD in the set is called "Bluegrass," though almost any of the songs on the album could easily fit into a bluegrass programming format. This set of 22 tunes starts with an uptempo number called "Kickin' the Can," that features the twin fiddles of Byron Berline and Greg Burgess. Before bluegrass music became so song-oriented, bands almost always would record one or two instrumentals on an album. Any one of these songs would have been a standout track on such an album. Though the front of the album lists only Byron Berline, make no mistake. This is very much a band album and features hot picking all the way around, especially Billy Perry on banjo, and the fine flatpicking guitar of Thomas Trapp. Some tasty mandolin picking is added on some tracks by Berline, himself. The songs on the bluegrass set are done at a variety of tempos and all are interesting. The final track on that CD is a tour de force tune called "Train Wreck," that recalls the feel of that other fiddle, train song, that many of us just call OBS.
Set three is labeled "Swing," though most of the songs could also fit into the bluegrass category. My favorite track is "Russian Concussion," which also seems to be the favorite of the programmers of Bluegrass Junction on Sirrius/XM. The Byron Berline Band has always flavored their live sets with a good dose of western swing, and this CD gives them the chance to really show off their hot licks. There are special guests scattered throughout the project, but especially on the third CD. The set starts with a hot fiddle and piano tune called, appropriately, "Fiddle My Piano," and showcases Nashville's Tim McDonald on the ivories. Up next is "BB Boogie," which features the entire band, along with Rushad Eggleston on cello. It's not often you hear a boogie lead played on the cello. Jens Kruger, Tommy Emmanuel, and Tim McDonald all guest on "Satisfied" and on "Troubadour," which is certainly one of the highlights of the entire project. "International Hornpipe" also features several guest pickers, including Clinton Pelletier on guitar, Rushad Eggleston on cello, and Alan Munde on banjo. Ned Luberecki plays banjo on three tracks; one on each CD, and the legendary Jay Dee Maness adds his tasty pedal steel in just the right places. If you only like music with vocals, this album may not be for you because there is no singing on it anywhere. But if you like interesting, creative instrumentals, based around the playing of one of the greatest fiddlers of all time, I can't recommend this project highly enough. If you play the fiddle, this album is an absolute "must have!" I suspect that some of these tunes will eventually be played in festival jams. So, pick up this album now and be the first to learn them. You'll thank me when you see me next year at the 50th Walnut Valley Festival.
Orin Friesen
The Walnut Valley Association Says Thank You!
We would like to offer a special "thank you" to all those who attended the 50th Walnut Valley Festival.  Our grateful thanks also to all who worked extra hard under extreme circumstances to make it a success: Walnut Valley Workers, Staff and Crew; Artists and Craftsmen; Food Vendors, Sound; Sanitation; Security; the people of Winfield and Cowley County; and the City of Winfield.
The Entertainers
3 TRAILS WEST
Stephen Bennett & Bill Gurley
Bryan Bowers
Roz Brown & Jim Ratts
Tom Chapin & Friends
Crary Evans & Smith
Damn Tall Buldings
Béla Fleck My Bluegrass Heart
Bing Futch
Beppe Gambetta
GASS
Green Flamingos
Shane Hennessy
Ernie Hill
Kelly Hunt
JigJam
Chris Jones & The Night
     Drivers
Marley's Ghost
Andy May
John McCutcheon
Tim O'Brien Band
Barry Patton
Pedersen, Flynn & Jorgenson
Pretend Friend
Socks in the Frying Pan
Dave Stamey
The Steel Wheels
Still on the Hill
Linda Tilton
Rhonda Vincent & The Rage
Mark Alan Wade & Steven Seifert
Weda Skirts
Whiskey Mash Band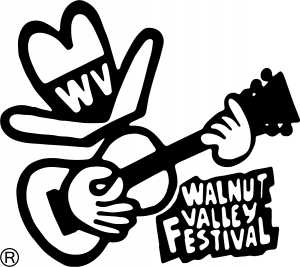 Luthiers
Beautiful Music Violin Shop
Bourgeois Guitars
Collings Guitars
d'Aigle Autoharps
Deering Banjo Company
The Dulcimer Shoppe /
   McSpadden Dulcimers
Huss & Dalton Guitar Co.
C.F. Martin & Co., Inc.
Master Works, Inc.
OME Banjos
Taylor Guitars
Preston Thompson Guitars
Rick Thum Hammer
     Dulcimers
Whippoorwill Acoustics
Others
The Acoustic Music Shoppe
Blue Chip Picks
Elliott Capos
Fishman Transducers, Inc.
Landis Studios
Prestige Monogram
Silver Pearl Designs
Solid Ground Stands
Sparks Music
Brendan White
     Jewelry Design
Wichita Hat Works
Wolf Hill Woodworking
Pre-Festival Workshops
Seth & Jenny Bate
Lee & Marcia Evans
First Baptist Church
Media
Dan Cribbs
Pam Cribbs
Kevin Dean
Melinda Farris
Sandy Flottman
Sheridon Flottman
Sierra Flottman
Kris Junker
Larry Junker
Debbie McNinch
Feisty Music Camp
Erin Mae Lewis
Aaron Fowler
Stage 6
Leo Eilts
Roger Eilts
Great Plains Dulcimer
     Alliance
Winfield Arts &
     Humanities Council
Sound
Greg Smyer Sound
Pro Audio Systems
WVA Friends
Debbie Carr
Derick Earls
Erica Lann-Teubner
Ron McCleary
Grant Olson
Doug Pratt
Nate Pultorak
Joe Taverner
Joyce Teubner
Mike Theobald
Eric Welty


Emcees / Stage Managers
Keith Anglemyer
Seth Bate
Dave Bellavia
Karla Campbell
Karen Deal
John DePew
Jesse Friesen
Orin Friesen
Aaron Fowler
Jeni Grey
Dave Higgs
Jon Huber
Dennis LeFevre
Richard Lungstrum
Lara Mann
Steve Miller
Virginia Musser
Veronika Nelson
Duane Porterfield
Dick Powers
Kathy Rogers
Josh Rood
Mike Shirkey
Tim Sidebottom
Steve Snook
Richard Sobek
Andrea Springer
Glenn Wooddell
Office Personnel
Rae Lynne Baker
Becky Conway
Karen Deal
Sarah Emrick
Marcia Evans
Rex Flottman
Larry J. Hittle
Helen Holdeman
Bart Redford
Jim Stevens
Get your tickets early and save with the Early Bird Special!
Early Bird Special
$
100
For the Full Festival!
Full Festival (Five Days) - $100
Advance Price
$
125
For the Full Festival!
ALL ADVANCE TICKET OPTIONS

Full Festival (Five Days) - $125

Two Days (Friday & Saturday) - $110

Two Days (Saturday & Sunday) - $100
Gate Price
$
150
For the Full Festival!
Available at the Gate Only

Full Festival (Five Days) - $150

Two Days (Friday & Saturday) - $130

Two Days (Saturday & Sunday) - $120

Children 5 & Under - Free With Paid Adult
Advance Tickets Guarantee Admission!
Advance Tickets may be purchased at the Festival Office (918 Main Street, Winfield) or at the Ticket Trailer (at the campgrounds) until 5:00 PM Friday, September 8th.
Festival gate and campgrounds will open Saturday, September 2nd from 7 AM – 7 PM
Only Full-Festival ticket holders will be allowed on Festival grounds prior to Thursday, September 14th. (Please do not invite persons without tickets to visit you on grounds.  They will not be admitted.)
One-day tickets are valid from 6:00 a.m. until midnight or until 30 minutes after last stage closes and do NOT entitle you to stay overnight in the campgrounds.  Those staying overnight must have at least a two-day ticket.
See you September 13-17, 2023!